M4 Nutrition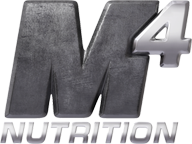 M4 Nutrition is a fast growing sport Nutrition supplement company which offers a wide variety of nutritional products. M4's products are
divided into two lines; iSeries and eSeries:
iSeries is our Premium line for the Advanced Development of your Fitness Goals. Usually targeted for Athletes and Consumers who have been training consistently. eSeries encompasses our products which are Essential for the Foundation of your Supplement Regime.



The baseline on where everyone must focus on and begin. M4 Nutrition takes pride with every product they release. Each product is not simply your typical supplement product on the market, M4 instead puts a twist in each of their products making each one better than their competitors. Started in 2008, the owners have developed each one of their products with the customer in mind. Each product has something unique compared to other products on the market. M4 Nutrition's MAGMA 2.0 product was first developed in 2008. This has by far been one of M4 Nutrition's highest selling products.