DISCOUNT SPORT NUTRITION - DSN - SPORTSUPPLEMENTS.COM
FAQ's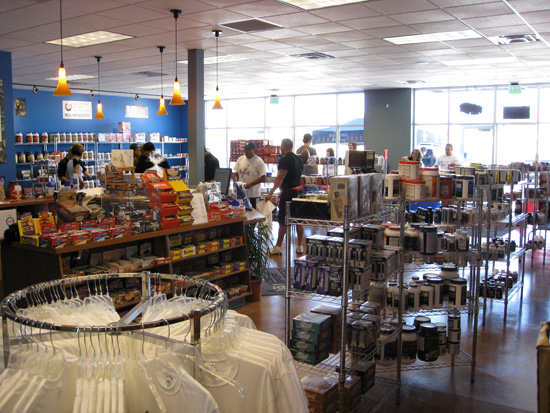 DSN's Frequently Asked Questions
This list of questions was put together from our most common questions we have received over years from our DSN Customers. This is definitely not all of the questions we have received and won't be the last. If you have a question about anything at all, please let us know before you place your order so we can make sure you have the absolute best experience with our company.
I need to contact you, what is the best way?
Please visit our "Contact Us" tab. Besides using that fast and reliable feature, the next best way is to email our Customer Sales Department! The DSN Customer Service and Shipping Department are open Monday – Friday, 9am – 5pm CST in the USA.
All orders should be placed online and not by phone. This will ensure that you will always receive the proper updates on your order by email and logging into your account.
What hours are your Internet Customer Service and Shipping Departments available?
These DSN departments are available Monday through Friday, 9am to 5pm CST. Emails and voice mails are returned during these hours. Weekends and holidays these DSN departments are not available.
Are your prices online the same prices in your DSN Retail Stores?
Unfortunately no. Internet prices are not valid in any of the DSN retail stores. All DSN stores are individually owned and operated as franchises and are able to set their own prices. Although we have some of the lowest prices in the Industry, prices are not the same.
Can I return an Internet order to a local DSN Retail store?
No. DSN Retail stores and DSN Smoothie bars have no connection with online ordering or the DSN Internet site. Local DSN stores and smoothie bars are individually owned and operated. They cannot help you with your online order or access your online information. Your online orders are being handled by one of our 8 warehouses across the USA. Please contact us directly from our contact us page for any help you my need. We are happy to help you!
Which products should I take?
Discount Sport Nutrition is here to help you! If you want help in person and are near one of our Retail Stores / Smoothie Bars, stop in and let us help you. If not, call, email or fax us! We will respond to you and make sure you get help! Most products on our website have full descriptions, nutrition information, warnings, instructions and other helpful information. Product manufactures also have information posted online for you to use on their corporate websites.
Do you offer product nutritional information and instructions?
Almost all products listed on our website have all the information you need. Click on the product to view it's full information. If you need more information, contact us! Just visit our "Contact Us" page.
I have certain health issues and I am not sure I can take certain products you sell. Who should I contact?
Your Doctor! We can offer advice and suggestions on our products we carry but we are not Doctors. You MUST not take any products until you have met with your Doctor and he has approved you to take them. If you require more product information than what is listed on our website, please contact the manufacturer directly. The information provided on this site is for informational purposes only and is not intended as a substitute for advice from your physician or other health care professional or any information contained on or in any product label or packaging. You should consult with a healthcare professional before starting any diet, exercise or supplementation program, before taking any medication, or if you have or suspect you might have a health problem. Discount Sport Nutrition takes this subject very seriously!
Where do you get the information from on your products you carry?
Information about each product is taken from the labels of the products or from the manufacturer's advertising material. DSN is not responsible for any statements or claims that various manufacturers make about their products. We cannot be held responsible for typographical errors or product formulation changes. Read all product labels once you receive your order and make sure you understand all ingredients and instructions as well as being cleared by your Doctor to take the product.
I do not see the product I am looking for on your website, can you get it for me?
Contact us and let us know what you are looking for. We have access to hundreds of manufacturers. It is hard to carry every product line but that does not mean we cannot get it for you. There are some lines that are absolutely terrible and we refuse to carry them!! Just ask us and we will see what we can do for you! If you don't ask, you won't know and we won't know that you want it.
Do you have a Privacy Policy? Is my information safe with you?
Yes we do have a privacy policy. DSN is the sole owner of the information collected on this site. We do not sell, share or rent this information to others. DSN collects this information from our users in order to properly fulfill orders for products from our site and to communicate with our users on an opt-in basis. You can read more on this in the privacy section within our site.
What payment methods do you accept?
DSN takes VISA, MasterCard, Discover and American Express. C.O.D is not available! Pre-payment by credit card is required. Please be sure to input your correct billing address for your credit card (this is the address your credit card statement bill is sent too.) Your credit card will decline unless you do this correctly!
Can I fax my order in?
We would prefer you to place your order online with us. If you choose to fax your order in, please ensure we receive all necessary information or we will not process your order. Our DSN Fax line is 214-292-8619. The minimum required information we need is the following; product number, description, flavor, size, price and quantity. Shipping method preferred. "Bill to" and "shipping to" address. Full name, phone number, fax number, email address and preferred contact method. Credit card #, name on credit card, expiration date and the 3 or 4 digit security code as well as your signature. By choosing this method you agree to all charges since no confirmations will be sent to you.
What are your ordering policies?
Customers must submit the correct billing address for their credit card when ordering items on the website. First time customers (except military customers) must have items shipped to the billing address of the credit card used. Orders will not be fulfilled if the billing address does not match the one on file at the credit card's bank. Orders will be voided if we do not receive the correct billing information of the credit card. As always, we have the right to refuse any order. No person under the age of 18 is allowed to place orders online with Discount Sport Nutrition. Parents and legal guardians' of minors must monitor web usage and are solely responsible for their actions.
What are your shipping methods?
All orders are shipped via UPS or USPS. We ship via UPS in the 48 contiguous United States to UPS deliverable addresses. All others orders are shipped by USPS. Items shipping to a post office box, military address, International address, Hawaii or Alaska must be sent via USPS. If you choose the wrong shipping method you must pay the additional fees before your order is sent out. DSN will charge your card for additional shipping charges separately from your original charge if needed.
Please remember that UPS and USPS may require a signature on deliveries. Someone might need to be available to sign for the package. Items that are returned because of failed delivery attempts will be incurred a $10 penalty in addition to the shipping charges to the customers' credit card. Items that are shipped to the wrong address (when it is the customer's fault) will also be charged a $10 penalty. Items that are refused will be charged a $10 penalty. Please remember that weekends are not included in estimated shipping times.
I am in the Military; can I still receive my products while on duty?
Absolutely! We have been shipping to active military personnel since we first opened in 1995. We ship to FPO and APO addresses everyday. Orders are shipped via USPS Priority Mail and most orders take 1-4 weeks to arrive to their destination. Our troops overseas receive the same price, selection and service that our domestic customers do.
Do you take International orders?
Absolutely! However, because of many fraudulent orders and scams we require higher levels of security and identity. International customers must pay with a credit card and the billing and shipping address MUST match the address where you receive your credit card billing statement. We will only ship to this address. We accept international orders from most countries throughout the world. In addition to normal shipping charges, you agree to pay all additional shipping, handling, customs, and insurance costs. Some International orders can take 12 weeks to receive their order due to shipping times, custom's and your local delivery companies. DSN will charge your card for additional USPS shipping charges separately from your original charge if needed. This is your only notice and applies to any USPS type shipment. See our Shipping Policies for more information on International Orders. Discount Sport Nutrition, DSN and SportSupplements.com only guarantees International orders to the customers local customs office in their country. If the tracking information shows that it has made it to your country and into the customs office that shipment is considered delivered and the liability is 100% onto the customer. International Customers understand this risk and it is their responsibility to contact their local customs office to inquire about their order if it has not made it to the shipping address on the order. We will do anything we can to help, but customers cannot issue chargebacks or claims against our company if your order does make it to your country. By placing an order online, International Customers understand the risk.
Do I have to pay Duty taxes on my International order?
The safe answer is yes. If you are outside the USA you may be responsible for any import duties to your Country that are incurred. It depends on the Country you are shipping too, your custom rules & regulations and local authorities. If you are asking this question you probably already have been subject to these taxes before. Discount Sport Nutrition is not responsible for any duties. You purchase from DSN, we charge your credit card once for your products and once for your shipping charges, then we ship you your order. After that, we have fulfilled our duties for your International order. Please understand our policies and ask questions before you order from us.
Are their International Regulations I should be aware of?
Yes. As a customer, you are responsible to comply with International, National or local laws regulating importation of products that you may purchase. If an order sent by us to you is refused delivery by customs due to unauthorized ingredients or contents, Discount Sport Nutrition or the company that ships this order IS NOT to be held responsible for any losses or costs incurred by the customer. Retrieval of any such shipment from customs is at the option of Discount Sport Nutrition. Discount Sport Nutrition will abandon any shipment when the cost of that return is more than the declared product value. If the shipment is abandoned by Discount Sport Nutrition the customer will not receive a refund or credit of any kind. If in any case we accept return of any shipment refused by customs authorities of any country, Discount Sport Nutrition will credit the customer for the value of the unopened and un-tampered products purchased less all shipping charges incurred for the return of the shipment and all shipping charges sending the product. There is usually not an importation problem, but occasionally they occur. By ordering, you agree to be bound by these terms. Again, any order shipped Internationally that is held by Customs in your country will not be handled though our facilities. You will have to work with your local customs agency to retrieve your order. It is the customers' responsibility to know the laws and regulations in your country. We will not credit your credit card for not receiving your International shipment. Please understand and acknowledge International shipping of sport nutrition products from the USA is complicated and takes research on your part to know if your location can receive products from DSN and the USA.
How long does shipping generally take in the US?
We have many warehouses in the USA. Delivery time depends on your shipping location. Most large urban areas delivery can be within 2 business days. I wish we could be more specific but there are just too many variables and different types of customers we serve. In most cases it will take 3 – 7 business days (from the day your order is shipped, not from the day you place your order) for packages to arrive. Saturday's, Sunday's and holidays are NOT business days. Orders received after noon CST on Friday will not be processed till Monday. UPS does not pick up on Saturday or Sundays. SportSupplements.com customer service and shipping departments are closed on Saturday, Sunday and all holidays.
Do you ship on the weekends? Holidays?
No. SportSupplements.com shipping and customer service departments are closed Saturday, Sunday's and all holidays.
I am not getting the results I expected from one of the products I purchased, can I return the empty or unused portion for a refund?
No. We cannot accept any products that have been opened or used. You can always contact the manufacturer directly and explain your results. Remember, products have different effects on different people. More than likely you just need a different type of product. Discount Sport Nutrition only offers products from National Supplement Companies that back their products. Customers should contact the product manufacturer directly with any issues, concerns or problems you have. If you need more contact information for them, just let us know through our Contact Us page.
Can I return my order for a refund?
Yes! You must contact us by email first for a "Return Authorization" number. Make sure the RA# and a copy of your invoice with your email address related to your order are included with the returned products. Also include in detail why you are returning the product and what you want. We will only accept returns on products that are not damaged and are unopened! If you have opened the product or removed any of the products packaging or seals, we will not be able let you return it. All un-opened products can be returned within 10 days of your invoice for exchange or credit. Customer is responsible for all shipping charges on returns. All returns are subject to a 20% restocking fee. No returns on special orders. Discount Sport Nutrition will issue a refund for returned items, less shipping charges and re-stocking fees. No exceptions will be made.
I received the wrong product, what do I do?
Contact us immediately and we will get you taken care of. We will need your order number, email address used to place your order, a phone number where you can be reached, the product number of the product you did not receive and the incorrect product that you received. We will be in contact on how we will fix this issue. Don't forget, we will only accept returns on products that are not damaged and are unopened! If you have opened the product or removed any of the products packaging or seals, we will not be able let you return it. Even if it was the wrong product. Claims must be filed within 24 hours or your claim will be rejected. No exceptions.
I received chocolate bars and a few other products that were melted?
We hate that this happens but unfortunately we have zero control over this issue. All our warehouses and shipping departments are climate controlled. However, once your order leaves our warehouses we are not responsible for temperatures. All nutrition bars, chocolate bars and other products that can melt are shipped at your own risk and are non-refundable and non-returnable. Please choose to not order these products from us or any other online retailer if you are concerned about this.
I am missing an item in my order, what do I do?
All orders are checked before they leave any of our facilities. They are also weight checked. It is very unlikely you will ever receive a package with missing products unless there is a backorder issue on something that you ordered. If you do find that an item is missing, you must contact us within 24 hours of delivery on our contact page or by email. After 24 hours of delivery your claim will be refused, no exceptions.
My products were delivered damaged, what do I do?
Please keep the original carton. Contact the shipping delivery company that delivered the product immediately to file a report. Then, report all damages to us within 24 hours of delivery so we may file a claim with the shipping company. If it is not within 24 hours of delivery the claim will be dropped by the shipping delivery company and Discount Sport Nutrition. No exceptions.
How long do refunds take?
Any credits issued to your credit card will take some time after we process it with our merchant services bank. It could take up to 7 business days for you to see the issued credit with your bank. We do not understand why it takes so long… It is just a bank issue no matter what bank or credit card company you are with. Internally at Discount Sport Nutrition we take care of our customer service issues within 72 business hours once we receive the return.
I changed my mind on a product I just received, is there a fee for returning products that I just do not want anymore?
Yes. Discount Sport Nutrition will issue a refund for returned items once received, less shipping charges and re-stocking fees. Returns are only accepted within 10 days of receipt of products. Don't forget to get a Returned Authorization number from us before you return anything to us along with a copy of your order. This must be part of your return or no credit will be issued. All returns are subject to a 20% restocking fee. No exceptions.
The product I am taking is making me feel weird and sick, can I return it?
Unfortunately no. Products can only be returned if they are un-opened and not damaged. Any product that gives you side effects, please discontinue use until you have consulted your doctor and have contacted the product manufacturer directly. The product manufacturer might be able to help you with this matter. DSN cannot resolve this for you.
Do you have any special offers or discount codes?
Yes! Be sure to join our DSN Email Sales Newsletter and Facebook page. Every so often we send out special discount codes to previous customers of Discount Sport Nutrition. Also, you can find us on Facebook! Just search for "Discount Sports Nutrition" and like us! Discount codes and other information are posted there. You must have a Facebook account to be able to join our Facebook page. You can also go to www.FaceBook.com/DiscountSportsNutrition.
I am under the age of 18; can I order your products?
No. The sale of certain supplements to minors is strictly prohibited on our website and in our retail stores, therefore no orders can be placed from minors. This is our company policy and there are no exceptions. Parents and legal guardians' of minors should monitor all computer activity and are entirely responsible for their actions and activities. No exceptions. Anyone over the age of 18 can place an order online or purchase items in our retail stores. Please view our term's and Condition's section for more information on use of our site.
What are the Term's and Condition's as well as any site disclosures your site has?
We have many. Please visit the "Term's and Condition's" section of our website before using any part of this site. Do not use any part of our site without reading our terms and conditions, privacy policy, shipping policies and our FAQ's pages. This is for your benefit and will ensure you have a positive experience with Discount Sport Nutrition for years to come.


Have a question that we did not answer?

Contact us and we will get back to you! We are here for you.








Discount Sport Nutrition | DSN | SportSupplements.com | USA Based | WorldWide Shipping Since 1995