All Max Nutrition Vitastack - 30 day supply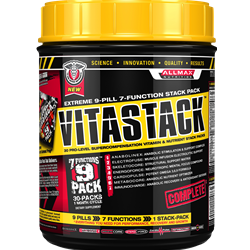 Allmax Nutrition Vitastack - 30 Day Supply
Bodybuilders and athletes hit the gym hard. You demand far more from your body than anyone else. You want to be better than you are today. You drive yourself through complete dedication and your nutrient demands far exceed the norm.
Too many of the best intentioned, hardest training athletes fail because they demand more from their body than they put back. Over time, excessive demand and often unintentionally limited diets can create nutrient deficiencies that sideline even the best bodybuilder, athlete or competitor. While the effect can vary widely, the result is too often the same. The training and the progress grind to a halt.
-COMPLETE 30-DAY SUPPLY
-CONVENIENT EASY-TO-TAKE STACK PACK
-EVERY ESSENTIAL NUTRIENT COVERED
-FULL SPECTRUM OF ALL 8 VITAMIN E ISOMERS
-THE MOST POTENT & BIOAVAILABLE FORMS
-7 COMPLETE FORMULAS IN ONE
-PERFECT FOR HARD-TRAINING ATHLETES
-CONTAINS A WIDE VARIETY OF ANTIOXIDANTS
-CONTAINS ALL 3 OMEGA EFAs 3-6-9
The ALLMAX Advantage
For years, ALLMAX Nutrition customers have been asking for the kind of vitamin pack that only ALLMAX could bring to the market. We have taken decades of combined supplement knowledge and poured it into an ideal 9-pill, 7-function, easy-to-take and even easier-to-remember stack pack.
VITASTACK – The Ultimate Performance Partner
Clearly labelled, VITASTACK stack packs are unbelievably convenient – you can pocket them and take them anywhere, making VITASTACK the ultimate performance partner. With one glance at the supplement facts, you'll know that ALLMAX has stayed true to its roots. Over 100 highly active ingredients, many of which are so advanced and so rare, you will only find them in VITASTACK – ultra high absorption complex nutrients that give you the ability to reach your true potential.
Who needs Vitastack?
-Competitive Bodybuilders
-Fitness and Figure Athletes
-Professional and Amateur Athletes
-Anyone on an Extreme Training Program
-Anyone Cutting Carbs, Fat & Calories
-Anyone Prepping for a Contest
Serving Size - 1 Stack-Pack (9 Pills Per Pack)
Servings Per Container - 30 Packs
Amount Per Serving
% Daily Value
1: ANABOLINEX
Anabolic Stimulation Complex
Thiamin (As Thiamin Hydrochloride)
15mg
1,000%
Niacin (As Niacinamide & Nicotinic Acid)
45mg
225%
Vitamin B6 (As Pyridoxine Hydrochloride And Pyridoxal 5-Phosphate)
2.5mg
125%
Folate (As 5MTHF)
800mcg
200%
Vitamin B12 (As Cobamamide Dibencozide And Methylcobalamin)
27mcg
450%
Pantothenic Acid (As Calcium Pantothenate)
10mg
100%
Citrulline (As Citrulline Malate)
25mg
†
Choline (As Choline Bitartrate)
42mg
†
2: ELECTROFUSE
Muscle Infusion Electrolytic Compound
Calcium (As Dicalcium Phosphate)
200mg
20%
Phosphorus (As Dicalcium Phosphate, Potassium Phosphate & Sodium Phosphate)
212mg
21%
Sodium (As Sodium Phosphate And Sodium Ascorbate)
100mg
<1%
Potassium (Potassium Phosphate)
158mg
5%
Structural Support Matrix
Vitamin C (As Sodium Ascorbate)
90mg
150%
Vitamin D (As Cholecalciferol)
480IU
120%
Vitamin K (As Phylloquinone And Menaquinone)
80mcg
100%
Calcium (As Dicalcium Phosphate, Calcium Aspartate & Calcium Glutarate)
160mcg
16%
Phosphorus (As Dicalcium Phosphate)
80mcg
8%
Iodine (As Atlantic Kelp)
75mcg
50%
Magnesium (As Magnesium Aspartate)
50mg
13%
Copper (As Copper Chelazome Amino Acid Chelate)
0.2mg
10%
Manganese (As Manganese Chelazome Amino Acid Chelate)
12mg
600%
Molybdenum (As Molybdenum Amino Acid Chelate)
37mcg
50%
Sodium (As Sodium Ascorbate)
12mcg
<1%
Potassium (As Potassium Citrate)
27mcg
<1%
Boron (As Boron Chelate)
40mg
†
Methylsulfonylmethane
100mg
†
Glucosamine (Glucosamine HCl And Glucosamine Sulfate KCI)
158mg
†
Chondroitin (Chondroitin Sulfate)
42mg
†
Neurotropic Stimulation Compound
Ginkgo Biloba Extract
60mg
†
Vinpocetine (Vinca Minor)
1mg
†
Huperzine (Huperzia Serrata) Extract
500mcg
†
Guarana (Paullinia Cupana) Extract
100mg
†
Powerful Omega 3,6,9 Formula
Vitamin E (As D-Alpha Tocopherol)
5IU
17%
Fish Oil (Omega 3)
200mg
†
Eicosapentaenoic Acid (EPA)
120mg
†
Docosahexaenoic Acid (DHA)
80mg
†
Organic Flaxseed Oil (Omega 3-6-9)
268mg
†
Omega 3 Alpha Linolenic Acid (ALA)
180mg
†
Omega 6 Linoleic Acid)
44mg
†
Omega 9 Oleic Acid)
44mg
†
Borage Seed Oil (Omega 6-6-9)
272mg
†
Omega 6 Linoleic Acid
140mg
†
Omega 6 Gamma Linoleic Acid
76mg
†
Omega 9 Oleic Acid
56mg
†
Anabolic Nutrient Optimizer
Chromium (As Chromium Polynicotinate)
120mcg
100%
Pancreatin Enzyme Blend (4X Analog Providing Lipase, Protease & Amylase)
75mg
†
Papain (Carica Papaya)
100mg
†
Bromelain (Ananas Comosus)
25mg
†
Vanadyl Sulfate (19.5%)
50mg
†
Bioperine® Black Pepper Extract (Piper Nigrum) (95% Piperine)
2.5mg
†
Serrazimes® (Aspergillus Oryzae And Aspergillus Melleus)
45,000Units
†
Anabolic Recovery & Antioxidant Defense
Vitamin A (As 20% Beta-Carotene)
5000IU
100%
Vitamin E (As Mixed Tocopherols And Tocotrienols)
216IU
720%
Alpha Tocopherol (26.2 IU), Beta Tocopherol (5.28 IU), Gamma Tocopherol (110.8 IU), Delta Tocopherol (42.2 IU), Alpha Tocotrienol (9.1 IU), Beta Tocotrienol (1.07 IU), Gamma Tocotrienol (16.5 IU), Delta Tocotrienol (4.8 IU)
Zinc (As Zinc Aspartate)
10mg
67%
Selenium (As Selenium Amino Acid Chelate)
30mcg
43%
CoEnzyme Q10 USP Grade (Ubidecarenone)
10mg
†
Milk Thistle Seed Extract (Silybum Marianum) 80% Silymarin
100mg
†
Grape Seed Extract (Vitis Vinefera L.) 95% Proanthocyanidins
25mg
†
Curcumin Extract (Curcuma Longa) 95% Curcuminoids
25mg
†
American Ginseng Root (Panax Quinquefolius) (5% Ginsenosides)
188mg
†
Pomegranate Extract (Punica Granatum) (Supplying 40% Punicosides)
33mg
†
Red Wine Extract (Vitis Vinefera L.) 25% Proanthocyanidins
40mg
†
† Daily Value not established
Other Ingredients:
Di-Calcium Phosphate, Croscarmellose Sodium, Hydroxypropyl Cellulose, Magnesium Stearate, Microcrystalline Cellulose, Stearic Acid, Silicon Dioxide, FD&C Yellow., FD&C Black Shade, FD&C Red #40, Gelatin, Glycerin, Water, Capsule Coating., FD&C Blue #1, FD&C Blue #2
Customer Reviews





(0.00)